December Update
Posted on December 15, 2017 by Nathan
The big news of the month is that Carpathian Mountain Outreach is back! We took the summer of 2017 off to focus on literature and web development, but we will be heading back to the mountains in 2018. You can learn more by checking out the announcement on ETO's spiffy new blog, or you can go straight to the CMO site.
Meanwhile, the aforementioned literature/web development continues. I recently finished a big project that will allow users to switch the interface of the Bible First site to their preferred language. And now that we have gotten the CMO announcement out of the way, Josh and I are hoping to make some good progress on Good and Evil and the Bible First site.
Family
It's birthday season at our house! As of about a week ago, Briana is a big two-year-old! Melissa's birthday is coming up soon, and she is counting down the days. Then then begins the Christmas countdown! Lydia finished her kindergarten math book a few weeks ago, and she has moved up to first grade math. Katelin recently decided to try potty training Briana, but so far, about all we have to show for things is a lot of puddles!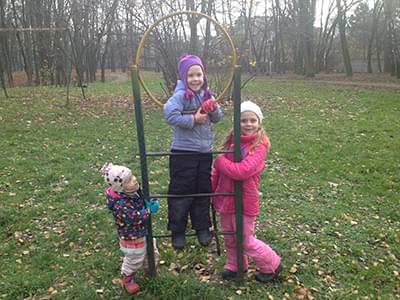 All dressed for cold weather, but no snow yet!